Producer
Resources for SLIP Producers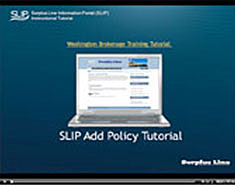 New to SLIP? Go through our video tutorials to quickly get up to speed.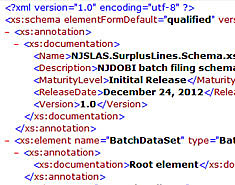 Tools to help you prepare and submit batch files to SLIP.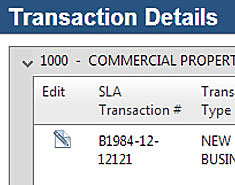 Get answers to questions specific to SLIP for producers.
The Surplus Lines Information Portal (SLIP) is a secure web-based system that allows authorized producers to electronically submit policy information through an XML Batch Submission.
An authorized user can log in to SLIP to upload a batch file containing policy data for one or more polices.
Producer: Questions & Answers
Answers to commmon questions from SLIP Producers
Do I have to file with SLIP for my 1st Qtr 2013 surplus Lines Tax Filing?

All licensed surplus lines producers are strongly encouraged to utilize SLIP in filing their 1st quarter 2013 NJ Surplus Lines tax return. However, the Department does understand that this may be an issue from some producers who may have to perform system updates/upgrades in order to file electronically. Please note that the filing of quarterly taxes via the Department's current process (paper filing) will still be accepted until the State's surplus lines regulations (which will reflect the changes in how taxes are filed) have been reviewed and approved. Once these regulations are passed, all producers will be required to file their New Jersey surplus lines taxes electronically through SLIP.

How do I make a quarterly tax payment?

The State of New Jersey now requires surplus lines taxes to be paid electronically; effective beginning the 2nd quarter of 2014, traditional paper checks are no longer being accepted. Please refer to the above Online Tutorial entitled "Electronic Payment" to become familiarized with this new requirement. Additionally, please note this "e-payment" process applies to all surplus lines-related payments in New Jersey, including State tax, fire tax, as well as any interest and penalties. Thank you in advance for your cooperation.

Do I need to submit the old forms (SLPS-1-Tax, SLPS-2-FRA, SLPS-3-TRS) with my tax payment?

If using SLIP, you will not be required to submit any of the old forms with your tax payment and voucher. All of the applicable reports/forms/pages needed by the State will be built into the system and maintained electronically.

Should the SLPS-6-CERT be submitted?

You are not required to submit the SLPS-6-CERT to the Department; however, producers are required to maintain them on file. The SLPS-6-CERTs maybe required upon the Department's request.

How do I handle transactions [i.e. additional premiums, return premiums, audit premiums] for which the original transaction [initial transaction or new premium] was reported in the Legacy system?

Additional premiums, return premiums, and audit transactions, where the initiating transaction was submitted with the legacy system, will be submitted in SLIP, following the normal instructions for reporting a transaction. Prior to certifying the tax return, please contact the Department for the approval of these transactions.

When do I get a User ID?

The Department will be assigning User ID's for organizations beginning April 8th. Each surplus lines Producer/Filing Entity Administrator will be sent an email with an administration user ID, temporary password, and link to SLIP. Once the Administrator has registered in SLIP, he/she can begin assigning users for their organization.